Vampire Queens
Some of you may remember I was supposed to play Vampire Queen in a promo film, and then it kept being pushed off, and I ended up doing 'Macbeth' and 'Proof' and putting the whole thing out of my mind.
Well, today the director of the film called me with a shoot date. Apparently, his production chick was supposed to get in touch with me but hadn't, and he was miffed, afraid he had lost me. I assured him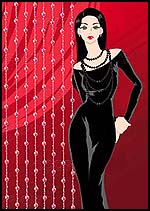 I was still raring to go on the project. I have costume fittings set for next week and shooting begins on June 27. Whee! Keep your fingers crossed that the designer has come up with something
über
sexy and slinky and dangerous. I'm hoping for something black and dark green, glittery, corsetted, with a bit of a train... like if Jessica Rabbit were a vampire. I tell you, sometimes I wonder if I'm not in this business just for the playing dress-up aspect of it all. Mwahahah.
Wondering how much the script has changed in the meantime. Last revision I got, I was the Naga Queen (a serpent people), and it had been my idea thousands of years ago to interbreed with humans, thus creating the race of the vampires. I wish I were allowed to post a part of it here, you'd see what it's like. Alas, copyright restrictions and privacy stuff, etc. But I'm supposed to slither into the throne room with eyes that can kill mortal men with a glance. Tee hee! And silly Corr's comment was, "Sounds about right." Elf-boys, what can I say.
Well, off to work on good ol'
Luminarium
again. Will BTYL :P
Vampire-smooches,
A
Tags:
Vampires
|
Movies