Checking In
Hello pumpkins!
No, I'm not dead or in distress — I know I haven't blogged with my usual voracity (wonder if I can use that word like that... hmm, well I'm gonna anyway). The reason is that I've been devilishly busy.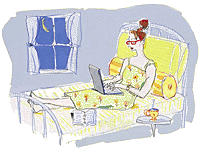 My website for English Literature of the Middle Ages and Renaissance,
Luminarium
, turns 10 years old this year. While parts of the site were started from February '96 onwards, the pages first came together in their current incarnations in June-July. So I'm hard at work updating the site for a bit of a 10 Year Celebration on July 1. Not an easy task, when you consider that the site has nearly 3,000 pages, and I'm also adding new pages, an entire new section, and a bit of Google AdSense to offset costs. I only hope my carpal doesn't act up....
As for other news, I received a lovely honor from someone I hold in high regard. Mark A. of
HyperLiterature
posted an entry on his new Blogroll, and in the midst of heavy hitters like Neil Gaiman, Dave Barry, etc., he stuck my little 'Scribblog' — I nearly fell off my chair. So thanks to Mark for the compliment.
Madeline (the girl with the
sexiest shoes in the world
) sent a link to an absolutely hilarious blog:
Geoffrey Chaucer Hath a Blog
- what can I say... unbelievable!
And speaking of things unbelievable, did you hear about the X-ray of a
duck with an alien inside it
? Yeah, the x-ray is now
for sale on eBay
- at present, the pretty pic goes for $4,600. Oy vey!
Still looking for a job... nobody is hiring at present, or I'm either overqualified or underqualified, or just too cute to hire :P Who knows. Anyone hears of a job, lemme know.
*MWAH*
A