"Hello, Lover!"

Doubtless, the women reading the blog instantly recognized the title quote. It is what Carrie in "Sex and the City" says to a gorgeous Manolo Blahnik shoe in a store window. Straight men and non-shoe-loving women (do they exist?), feel free to pass up this post.
What is it about shoes that make so many of us feel an instant flush of attraction? The sensual shape, the feel of the fabric or leather, the visual delight of color? Or does it happen when we put on a pair of shoes that fit perfectly, knowing we could "walk five hundred miles" in them? Maybe not, since we even lust after shoes which are cripplingly uncomfortable, destined to maim our appendages worse than the most notorious ballet shoes ever could. It's not even the fact that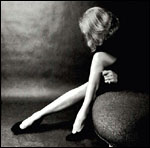 some shoes can make us look like we have the insurable gams of Marlene Dietrich, the height of a few glamazons, and pert buttocks of steel (although these will immediately raise the shoes' rating by several notches). I don't know what it is — but there are shoes that have that 'Come Hither'-look no mere mortal can resist.
I realized once again what a love affair I have with shoes when, after a performance of
Macbeth
I looked around the dressing room and saw that I had six pairs of shoes there... and since I only wear one pair on stage, one pair home, that made for four extra pairs; four deliciously needless pairs. "I love you, shoes!" I cooed to the pair of black suede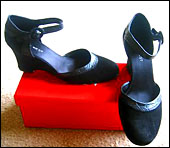 and mock croc Nine West platform heel Mary Janes which Lady Macbeth wears — sturdy, so I don't fall on my face on stage, yet delicate-looking, which make Lady Macbeth's legs look just-so, and ever so comfortable, so that I can wear them for two hours without ever having to spare a thought for aching feet. One of my cast mates, who plays one of the witches, started laughing at my fervent declaration of passion, but the look on her face was not mocking — she knew exactly what I meant.
I was delighted when my friend Madeline sent me a picture of the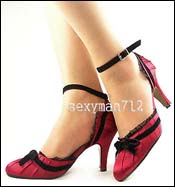 to-die-for shoes she just bought on eBay, and at once chagrined and envious, because I desire her shoes now as well, LOL! They would have been perfect for my Lady M, and I would love to wear them in 'real life' as well. These shoes are graceful, bold, tarty and tastefully sexy at once —
me WANT! Kudos to Madeline, for finding these beauties. If you want to die of envy, she bought them for less than $30 including shipping!!!! Madeline, you saucy minx!
So. If you don't have this love affair with shoes, you'll likely consider me (and perhaps rightly so) entirely bonkers by now. If, however, you know the lure of the perfect shoe intimately, you're ready to join me in saying "Hello, Lover" to a yet-unmet pair of siren shoes in the very near future. Admit it :P
~A