Macbeth Opening Night
Hello Beloveds,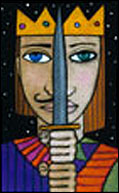 'Macbeth' had its opening night tonight, and miracle of miracles, it was brilliant. We also got the cover of the entertainment section in "The Trentonian" (the paper for Trenton, NJ) and it's a pic of me in my red gown with the witches crawling all over me. Cool concept, except the picture angle makes me look like Jabba the Hutt's daughter, and like I have 5 double-chins, eeeeeeek! Heheheh,
vanitatum vanitas
.
The theatre critic spoke with me after the show at the opening night party, and considering he's seen everything done in New York and Philadelphia for the last 50 years and was one of the original producers of 'Godspell', him saying I "certainly have the talent and skill to go all the way" left me floating, floating, FLOATING.
Have I been self-centered and braggartly enough? Methinks I have. Thanks for bearing with me in my egotistical self-satisfaction.
Anyway, with the mad rush to get 'Macbeth' show-ready, I haven't had any other life, so nothing else really to report. Going to bed, to do it all over again tomorrow.
exes and ohs, A
Tags:
Macbeth
|
Shakespeare
|
Theatre
Labels: Shakespeare