Finland Wins the Eurovision Song Contest 2006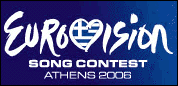 Ahh, the Eurovision Song Contest. Schmaltzy fun for the whole family. Won't say much to the folks outside of Europe, but trust me, it's a big deal in Europe. I would watch it every year with my folks. Most years the winner would be some terrible pop song in an unfathomable language, though occasionally a gem would find its way to the midst of all the chaff. My all-time favorite winner of the contest was Johnny Logan's 1987 "
Hold Me Now
" — what better than a cute Irishman with a lovely voice singing a love ballad? I still love this song.
Finland has been competing in the ESC for 45 years — we have
never
won, or even placed in the Top 3. So today when I got a text message from Katja saying we'd won, my reply was "That's not possible!" Katja's response was "I guess if you live long enough, you'll see it all." I was in the car on my way to the theatre at this point, so I called my dad (it was 1 am in Finland) who was already asleep, and when I said Katja had sent me a txt saying Finland won the ESC, my dad said, "Is it April Fool's Day?"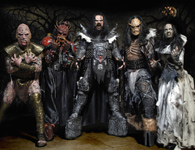 Weirdly enough, the winner of the contest is indeed Finland, and with nothing less than a song called "Hard Rock Hallelujah" by a Monster Rock band called "Lordi" (tr. "Lord"). These dudes are in full Middle Earth orc gear, and the song is so unlike the upbeat pop ballads that usually win the ESC that I am wondering if
A) the contest was rigged and
B) all the judges are taking serious doses of crack (which, considering how bad the songs in the ESC usually are would be a wise course of action, the pain otherwise being intolerably excruciating).
Well, 'nuff said. You have to see it to believe it.
The Winner of the Eurovision Song Contest 2006
Finland. Lordi, "
Hard Rock Hallelujah
."
I thought
Conan O'Brien going to Finland
would be hard to live down... especially since the dogsled driver chick's name was Anniina... once
this
gets out, I'm going to be living in Humiliation Central.
Tags:
Finland
Labels: Finland