Conan O'Brien in Finland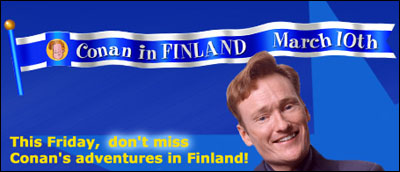 Okay, so Conan O'Brien went to Finland earlier this year, and the craziness he got up to there will be on TV tomorrow, Friday night. Originally hailing from Finland myself, and being that my dad is a huge fan of Conan's, I am absolutely watching it. If it is dorky or humiliating (betting on it!) don't tease me :P
I remember '60 Minutes' did a segment on Finns and Tango in the mid-1990s, and for YEARS people asked me if I loved to tango. Hello, it would be like Europeans asking every American they run across, "Do you square dance?" So no, I don't tango.
Although, I would love to learn someday - the Argentinian, sexy kind Jamie Lee Curtis and Arnold do at the end of "True Lies", or the Gomez and Morticia Addams "Cara Mia"-kind,
not
the pudgy middle-aged Finnish hick-kind....
So watch Conan, but remember, no teasing me after :)
Video Preview of Conan's Finland Trip
Labels: Finland