Mission Impossible III Review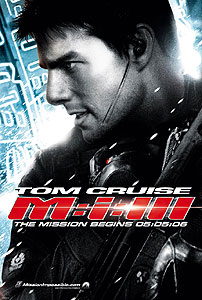 It has been all over the trades, the news, the tabloids: MI3 is a box office disappointment. I concur with the general consensus that Tom Cruise is absolutely off his rocker, and his antics and imbecillic statements over the past year have made him dislikable, as a person. I also have to admit that the reason I didn't rush to see MI3 on its opening weekend was, in addition to the fact that I was in show, due to the fact that I somehow wanted to boycott Tom Cuckoo.
That said, I am a fan of the franchise: Mission Impossible and MI2 both hit the spot for me where action movies are concerned — good scripts, intense suspense and state-of-the-art effects, and although I wouldn't say Cruise is a fab actor, he does turn out a nice suspense-flick trick.
Mission Impossible III
does not disappoint. It is wonderful, pure and simple. The script is tight, the action sequences hair-raising, the direction (by J.J. Abrams of "Alias" fame) and editing well-nigh flawless for the genre, and the actors, Cruise included, do a brilliant job. Cruise is joined by the ever-enjoyable Ving Rhames, the superlative Laurence Fishburn, Philip Seymour Hoffman who has never had a bad performance in his life I'm starting to think, Billy Crudup who I have to say keeps growing on me, and in delish smaller roles Jonathan Rhys Meyers and
Shaun of the Dead
's Simon Pegg. Even little Felicity, Keri Russell, acquits herself well in a small but pivotal segment.
I got my money's worth. I'm giving this one an A in its genre.
Tags:
Movies
Labels: movies