QUIZ: What's Your Sixth Sense?
This test is wickedly cool—they have you guess stuff like "what's the picture behind this card?" and "at the end of the test, a number will randomly generate: which number is it?" Sort of reminded me of that scene in
Ghostbusters
with Bill Murray, and how he'd zap the guy who really had it going, tehee! I always know who's calling when the phone rings, my dreams often come true, and if I think about someone intently, they will usually contact me in a matter of hours. My sister and I almost have telepathic email that way. Weird enough for you? Well, I wasn't surprised when they told me this: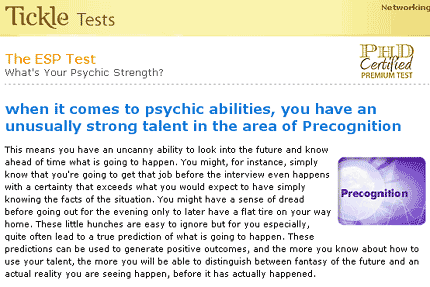 What's Your Sixth Sense?
Labels: "A bit of silliness really", quizzes, Weird