Sonnetsday: The Tudors, Wyatt and Anne Boleyn
As I said, I'm obsessed with Showtime's
The Tudors
; if you've seen it, you know it's with good reason.
Some of the historical detail
The Tudors
include is delightful — case in point,
Sir Thomas Wyatt
's love affair with
Anne Boleyn
, before
King Henry VIII
set his mind on having her. In the show, Wyatt is played by the lovely Jamie King. The only portrait we have of Wyatt is as an older man, and it's funny how thinking of Wyatt as a young hottie suffering heartbreak makes me re-evaluate my concept of Wyatt.
Wyatt wrote several poems that are thought to refer to Anne Boleyn, including the one he recites to her on "The Tudors," and "
They Flee From Me
," which he asks
Tallis
to set to music, and "
I abide and abide; and better abide
."
Wyatt is also thought to have witnessed the execution of Anne Boleyn from the window of his cell in the Tower of London and to have written about it in the poem
V. Innocentia Veritas Viat Fides Circumdederunt me inimici mei
.
For today's sonnet, I'll post one of Wyatt's most famous sonnets, thought to have been written right after Anne Boleyn forsook him for the King.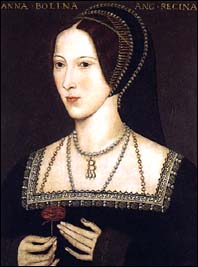 HOSO list to hunt ? I know where is an
hind !
But as for me, alas ! I may no more,
The vain travail hath wearied me so sore ;
I am of them that furthest come behind.
Yet may I by no means my wearied mind
Draw from the deer ; but as she fleeth afore
Fainting I follow ; I leave off therefore,
Since in a net I seek to hold the wind.
Who list her hunt, I put him out of doubt
As well as I, may spend his time in vain !
And graven with diamonds in letters plain,
There is written her fair neck round about ;
' Noli me tangere ; for Cæsar's I am,
And wild for to hold, though I seem tame.'
Sir Thomas Wyatt
.
Labels: poetry, Renaissance, Sonnets, Sonnetsday, Tudors