The Synchronicity Principle
Lo and behold! As soon as I finished posting, I went upstairs and

checked my little green house of a mouse trap, which has found a permanent place underneath my stove (where the cookie sheets, etc. are stored). What should I find, but a little tail-and-whiskers! Poor fellow had been there for a long time, and was ready to follow his fellows to the field. As customary, I left him the cracker to eat, so he didn't have to go hungry until he figured out a new domicile.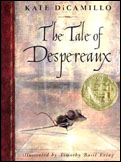 Another coincidence was that I visited the blog of
Bitch Ph.D.
for the first time tonight, and devoured several entries with plans for a present return. Her latest entry concerned "
The Tale of Despereaux
", a wonderful children's novel about a very brave little mouse who falls in love with a princess - I had only just bought it and read it and received another copy for Christmas.
My life, for some reason, seems to have 'Mouse' written all over it today. Fa-mouse, Anony-mouse, enor-mouse! I'm starting to sound like Monty Python here,
sans
the sparkling wit. Well, if anyone has a book or cards that mention anything on animal totems, drop me a line and tell me what all these mouse-signs mean, would ya?
~A