Doggie Pictures, by Popular Demand
The crowd clamored, and they must be requited. Here are
Boo (Wilbur) and Noo (Ariel). Boo is a pure Wheaten Terrier boy, 5; Noo is a half-n-half Wire Fox Terrier/Poodle girl, 13. As you know, they are the loves of my life.
I'm allergic to dogs, as is my mom, and growing up I never thought I would ever have a dog. But I always kept hoping. Finally one day the doctor told me there were dogs that had hair instead of fur, whose allergens would be so low as to be negligible. I looked for "Any-well" for 9 months, scouring every pet store and pound, and when I saw her, I knew. Before anyone asks, "No, she was not named after Disney's Little Mermaid." She was named after the sprite
Ariel
in Shakespeare's
The Tempest
. She's very smart, willful, and bossy, and a total lovebug. I love her fiercely. It's hard to get a good picture of her, because she's a ham and loves to come up close to the lens.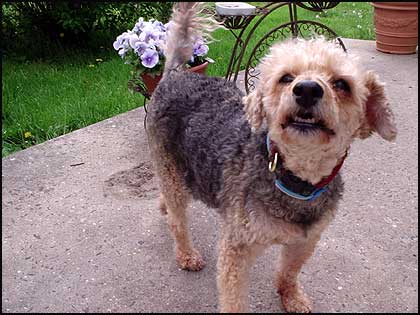 Boo, on the other hand, was a surprise. I had a horrible nightmare one night, in which a little dog needed me, urgently. In the dream the dog was a poodle. Vik and I went to all the local SPCAs but none of them had a needy poodle. In the pet store near one of the SPCAs, there was Wilbur. He was all skin and bones, and his hind legs had atrophied from being in a cage for so long. But he was full of bounce and sunshine, saying "take me, take me." The vet was so angry with Boo's previous 'caretakers', as were we. Boo's legs are fine now, and he's all muscle, but his nose and paws are a little big, since he never grew to be as big as he would have, had he not suffered from neglect. For Boo-Boo life, and everyone in it, is wonderful. He's a big lug, loves to wear bandannas and bounce around the yard
like Tigger
.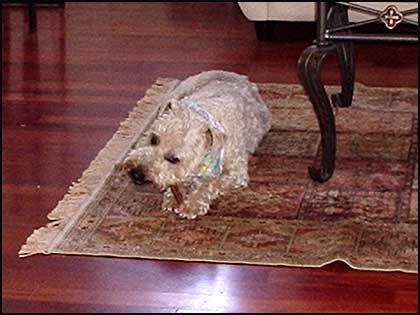 Labels: dogs, Love, Photography