Will and Wakefulness
Ah, beloveds, here we are again at 4 a.m. Boo just awoke to throw up, and Noo has a rumbly in her tumbly, as Winnie-the-Pooh would say, as well. I'm on the queasy side too, so I'm betting we all ate something bad. I'm sure it'll be fixed by morning, but ahh, the perils of being awake at 4 a.m.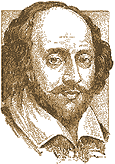 For some reason, "my Beloved, Master W.S." is never far at this hour, even though this time the cause of my waking is not the previously documented
Insomnia, the Hollow-Toothed Beast
. Earlier tonight, I was revisiting the Sonnets, to send my sweet Corrie a few suggestions for possibilities for his class (as if he needs my suggestions — he's brilliant!).
I came up with quite a few, of course, in my list of "favorites" — but I'll not list them all here, unless of course I receive a popular outcry for just such a list. What I thought of doing instead was a Sonnetsday — posting one sonnet per Sunday. This way, those who enjoy sonnets can get their fix, and those who do not (I know who you are, and it's quite alright) can fast forward through those entries. Deal?
It is not Sunday yet, but let's do it,
just because I feel like it
: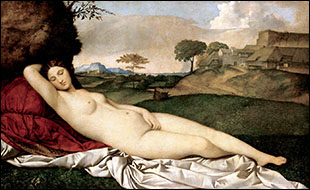 Giorgione. Sleeping Venus, c.1510.



Sonnet 43

WHEN most I wink, then do mine eyes best see,
For all the day they view things unrespected;
But when I sleep, in dreams they look on thee,
And darkly bright, art bright in dark directed.

Then thou, whose shadow shadows doth make bright,
How would thy shadow's form form happy show
To the clear day with thy much clearer light,
When to unseeing eyes thy shade shines so!

How would, I say, mine eyes be blessed made
By looking on thee in the living day,
When in dead night thy fair imperfect shade
Through heavy sleep on sightless eyes doth stay!

All days are nights to see till I see thee,
And nights bright days when dreams do show thee me.

W.S.






Labels: Insomnia, poetry, Shakespeare