Changing Guard at Shakespeare's Globe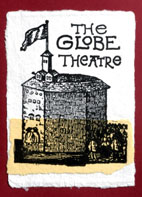 When Mark Rylance, then Artistic Director of
Shakespeare's Globe
in London, announced last year that he was going to retire from the post at year's end, I could feel my heart stop for a moment. Serving as Artistic Director from the first and shepherding the ambitious project through its first ten years, as well as gifting the world with luminous, inspired Shakespeare performances as leading actor, Rylance to me
was
the Globe — I greatly fear that the Globe will never again demonstrate the impeccable quality for which it has come to be known.
Paying five pounds (roughly $8) to stand leaning against the stage of "the wooden O" for three hours, rain or shine, while brilliant actors breathe new life to Shakespeare's works in flawlessly reproduced Elizabethan costumes, and the apollonian Mark Rylance (inarguably the greatest Shakespearean actor of our day) being present — that is as close as I've ever come to heaven on earth. With this news, I feel like I'm in an alternate,
Paradise Lost
reality, like a rebel angel cast down never to look again on the face of the divine.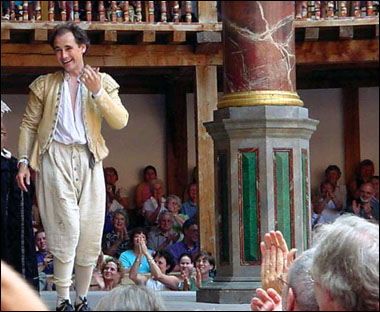 If you have not seen Mark Rylance on stage, you will think I'm a giddy schoolgirl exaggerating. If you
have
seen Mark Rylance on stage, you will know
exactly
what I mean. As Pacino once said, "Mark Rylance plays Shakespeare like Shakespeare wrote it for him the night before." Mark Rylance is a force of nature — he is poetry made flesh. Visiting the Globe from this day forward will be like visiting a temple that has lost its god.
I was fortunate to see the Globe on their US tour this year and to speak with Mr. Rylance briefly after the show. He was as lovely and gracious a person as one could have wished! I have scanned the news daily, but not a word about what his future projects may include. Ahh, the waiting!
The Globe has, however,
announced
its appointment of a new artistic director, Dominic Dromgoole, who in turn has announced the coming summer season. Dromgoole, a veteran director at the RSC and Old Vic, has dubbed the season "
The Edges of Rome
":
Coriolanus, Titus Andronicus, Antony and Cleopatra,
and
The Comedy of Errors
are the four Shakespeare plays. Interestingly, Dromgoole has also included two modern plays which will have their world premiers: Simon Bent's
Under The Black Flag
, which follows the pirate Long John Silver in the 17th-century, and Howard Brenton's
In Extremis
, a story set in 12th-century France, following the relationship of Abelard and Heloise. The casts have yet to be announced, but booking begins February 13.
Fascinating article/interview with Dromgoole by Nick Curtis of the Evening Standard, January 13, 2006.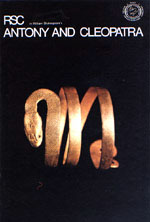 Considering that the
RSC
, also under new artistic direction, is presenting
the whole canon
of Shakespeare's works this year, it promises to be an interesting year for lovers of the Bard. The season includes visiting theatres from around the world, and also provides big names, such as Patrick Stewart (O Captain, My Captain!) as Antony in
Antony and Cleopatra
and as Prospero in
The Tempest
. Time to start saving for that trip to England!
Tags:
Mark Rylance
|
Shakespeare
|
The Globe
|
RSC
|
Theatre
Labels: Mark Rylance, Shakespeare, Theatre