Janet Chui - Fantasy Artist Worthy of Note
I've long loved the art of Janet Chui. She paints in various media skillfully, and brilliantly in my favorite — watercolor. You can see her art at
Elfwood
and on
her website
.
I was fortunate to have her accept commissions from me in 2004 to paint watercolors for two of my fantasy poems. Here is "The Maiden's Song", followed by my poem on which the artwork is based.
To respect Janet's copyright, please do not copy and paste this on another site, thank you.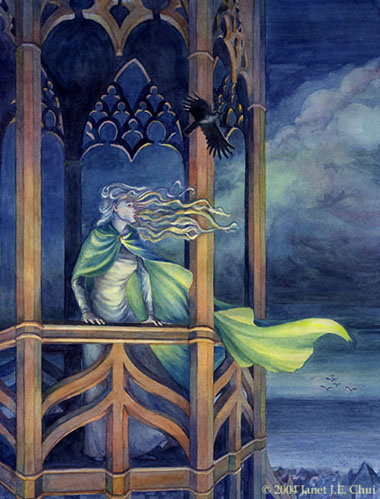 The Maiden's Song
The maiden sang in her tower
While rain fell on the land,
Sang flowers into her bower
And starlight on the sand.
She sang of heart's desire
As darkness 'gan to fall,
Sang of the soul's deep fire
As kestrels 'gan to call.
Her song rang in the twilight
From the tower to the town,
Rang clearly until midnight
As raindrops covered the ground.
She sang of her love who had gone away
As night grew further dark,
She sang of her longing 'til the day
Was wakened by the lark.
When the morning bells did sound
Her song was heard no more;
Of maid herself no sign was found
But her cloak cast on the shore.
And whether she left to find her heart,
Or was taken by the seas,
None knew if the gods did hear her part
Or were deaf to her keening pleas.
Yet, to this day, in the falling rain
Her song can be heard so clear —
Her fate a mystery will remain
And the love that she held so dear.
(AJ - 1/2004)
Tags:
Anniina's Poetry
Labels: Fairy Tales, Fantasy Art, poetry