The Mermaid

Deep in the halls of the Ocean King
The mermaid heard the call;
The seaweed swayed, the coral did ring,
To herald the brewing squall.

Her life was uneventful
At the bottom of the seas;
Her will had grown resentful
Of her father's strict decrees.

She was starved for new, exciting sights
And visions of the realm of men;
Spiting the King, on many nights
She'd ranged far beyond her ken.

Thus, slipping from her silent home,
She swam ever upward so high;
Finally piercing the watery dome,
She beheld the furious sky.

Rain pelted the majestic ship
That clove the raging waves;
Many sailors aboard her lost their grip
And went plunging to their graves.

In the galley's imposing prow
The prince alone did stand;
No storm so fierce could make him bow,
Nor lose the hope of land.

Hungry winds howled as night grew dark,
The sea like a ravenous beast;
Now ragged and weary was the barque,
And still the storm increased.

Gale winds blew, the sails were rent,
The waves crashed over the deck,
And finally the prince was sent
Sprawling to the floor of the wreck.

Lightning came down, the mast gave groan,
The ship was split in twain;
Overboard the prince was thrown,
Was engulfed by the seas and the rain.

Why he was different, she could not say,
From the others she'd let drown;
But she lifted him above the spray
And swam him towards dry ground.

She marvelled at his human face,
And her soul began to ache;
His form to her held untold grace,
And she feared her heart would break.

Arriving at a far off beach,
She laid him on the sand;
But, as a mermaid, could not breach
The bounds of sea and land.

She laid a kiss upon his cheek
And whispered her goodbye;
Then, with her spirits grown quite bleak,
She left him with a sigh.

She never knew what became of him,
Though she wondered about his fate;
But her memory never did grow dim
Of the man she had saved that date.

And centuries passed in human years
While the mermaid lived, longing, alone;
Shedding her silent mermaid tears
For a love she had never known.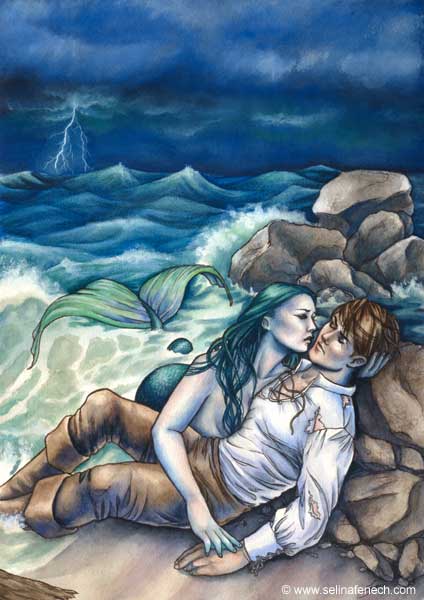 ©Selina Fenech.
I commissioned this watercolor to accompany the poem two years ago from the amazing Australian fantasy artist, Selina Fenech. The original is very large, and shatteringly beautiful. Visit
her site
to see more of her luminous art. Visit my house to see the original :P
Poem ©Anniina Jokinen. Copyrighted with the Writers' Guild of America. (i.e. publish in any form without my permission, and I will sue). Hate to be like that, but at this day and age....
Tags:
Anniina's Poetry
Labels: Fairy Tales, Fantasy Art, mythology, poetry