Palm Reading Test: What Does the Future Hold?
You know I'm a sucker for a free test, quiz, meme, etc. Well, the folks at Tickle emailed once again, this time with a free palm reading analysis. Apparently, I gots me some
Lurv
coming my way. I was kinda hoping for a call from Steven (Spielberg), but hey, love's good!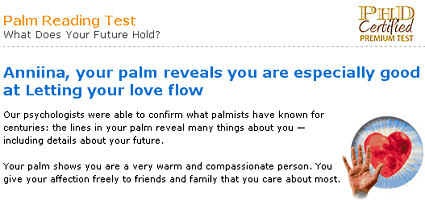 Take Your Own Palm Reading Test
- Tickle.com
Labels: "A bit of silliness really", Love, quizzes