Where is Mark Rylance?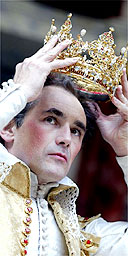 The Divine Mark Rylance. Many of you know that I idolize this man to the
n
th degree. Artistic Director of
Shakespeare's Globe
in London until the beginning of this year (see my blog on "
Changing Guard at Shakespeare's Globe
), Rylance is a force of nature as a Shakespearean actor. Nobody who has ever seen this man on stage can forget his performances.
Since Mark Rylance stepped down, I have found nothing about his future projects — I'm constantly checking, because I want to see anything and everything he may be performing in again. I've had no luck on that front, but have found a few mentions of him, so I do know he's still around — perhaps he is enjoying some well-deserved time off.
According to the Luxury Traveler (3/13/06), Rylance is still involved with the Globe conducting the famed
Sonnet Walks
. I tend to take this with a grain of salt, but if anyone does happen to have confirmation for it, please advise.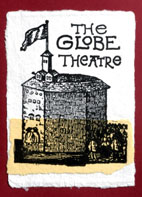 Chloe Gallagher, a fellow blogger, posted
a sighting of Mark Rylance
at the Globe on April 21, 2006. Rylance is not part of any of this year's casts (!) so we can only ponder about the capacity in which he was visiting — perhaps something to do with Shakespeare's birthday celebrations.
Mark Rylance was nominated for this year's
BAFTA
s for BBC4's "The Government Inspector", and BBC4 also recently re-aired the
taped performance of "Richard II"
from Globe's 2003 season. I have been searching high and low for a copy of this on videotape. If
someone
can get their hands on this and sell it to me, it would be worth a HUGE amount to me. Drop me a note.
And, if anyone has any news on what's next for Mark Rylance, please let me know. Watching Mark Rylance on stage is of enormous educational value to me as an actor and a source of utmost pleasure — I'm ready to make a pilgrimage at a moment's notice.
Tags:
Rylance
|
Shakespeare
|
The Globe
|
Theatre
Labels: Mark Rylance, Shakespeare, Theatre