Shakespeare's Titus Andronicus - Globe 2006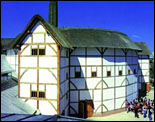 Before embarking on a review of the above, let me say my feet and calves ACHE — walking around London for a full day, after which attending a show at
the Globe
, standing for 3 hrs as a 'groundling', is murder for the uninitiated. To think, just 3 years ago I could have done it for days on end, but soft living in the suburbs has divested me of both muscle and flexibility, and today I am walking around like great-aunt Esther, every step accompanied by a sadly-whimpered, muffled "Ow."
In the good news, had a superb breakfast at
Camden Market
, proudly named "The Full Monty", consisting of slices of English bacon, sausage, egg, and baked beans, with a nice chunk of buttered baguette and a can of Fanta to chase it down. Yes, Madeline, I know I shouldn't be drinking it since I'm allergic to it, but really, how can I resist, it's FANTA?!
The corset lady, over whose wares Madeline and I used to drool, vowing we'd be back when we were mega-rich, is no longer in the same spot. She now has a store named ARC at the end of the street, where the Camden Lock Market buildings are. We'll still go back, should we ever strike rich enough. There was a pink satin one with black lace and piping I thought we could have fought over, and a purple chinese silk satin one that could have given Scarlett O'Hara's waist a run for its money. *DROOL*
After this, a quick stop by Goodge Street - there's now a Starbucks to the left of the tube entrance Madeline! We would not have been safe! I didn't go in but admired RADA from the outside, and then headed down to Westminster Abbey, wich, miracle of miracles, was open. The story here, is that I have stood outside said cathedral countless times, and the bugger has always been closed for a private function, or cat-christening, or just on principle to not let yours truly in. Thus it happened, that I finally got to see Queen Elizabeth's tomb and "Poets' Corner" with its tombs, monuments, and memorials. I think I scared the other American-sounding tourists when I fell a-weeping in front of Michael Drayton and "O, rare Ben Jonson" — and Mark, I did not have your strength, I did indeed break into a quiet recitation of "Whan that Aprille with his showres soote" in front of Geoffrey Chaucer. I had a hard time getting un-
verklempt
and decided to quit the Abbey altogether. I could only think how much it felt like a
pilgrimage
(and please read that in the Middle English pronunciation, 'pilgri-
Mah
-juh').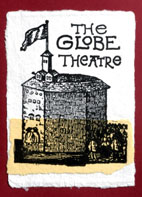 The Globe
is a sanctuary and holy place of another order for me. Got there ridiculously early to get tickets, and then was among the first behind the rope they make you stand behind, before they let you to the Globe yard to wait for the gates of the holy house itself to open. There is a reason for this — the best spots for groundlings are right against the stage, where you can lean against the high planks and be almost right within the action. Success!
I had waited with trepidation for this night, because I knew it would be weird to be at the Globe without Mark Rylance. And it was.
The second play of new Artistic Director Dominic Dromgoole's season "Edges of Rome",
Titus Andronicus
, opened with smoke from censers, and much yelling and clanking, as two metal-railed "towers" moved about the yard bearing the two contenders for Rome's emperorship. Throughout the show, these towers were pushed around the yard, the groundlings being herded out of the way, so never once could anyone just blithely stand back and not pay attention. Interesting concept, but there was too much of it, and it became distracting after the novelty wore off.
I'm not going to be one of those reviewers who write an essay on the plot; I hate that. I'll jump right in.
Costumes
. The costumes were no better than one might see in any regional theatre around the world — a grave disappointment to us 'costume-whores' who would go to the globe to sigh over the hand-stitched garments with their outrageously expensive fabrics, everything done to perfection, the shoes fully period, enough to make a shoemaker cry tears of joy. These Roman soldiers and nobility alike were in black Converse hightop knockoffs, the toes of which had been cut out and the rubber soles and heels of which still read "Pump" for those of us close to the stage to get distracted by. Underneath their machine-stitched "togas" everyone wore black SPANDEX® bicycle shorts which gleamed in the evening lights, should a character die and have his toga hiked up. For the Roman half-glove, the emperor was forced to wear a black motorcycle glove with the fingers chopped off, strangely reminiscent of Michael Jackson's "Thriller" days. Some things were done well, such as the blue tattoos on the Goths, the empress' wig, and Aaron the Moor's kaftan. All in all, though, a sad day for Globe costuming.
Acting
. Patrick Moy was perfection as Emperor Saturnine. He captured every nuance of the character, looked aquiline, his physical presence was commanding, possessed a beautiful, full "RADA voice", and he brought fantastic depth and surprising emotional range to the final scene. Conversely, Geraldine Alexander as Tamora was disappointing. Her voice was strained, often hoarse, and her character had no emotional arc due to the poorly delivered first speeches of Tamora, pleading for her son's life, and emotionally wan reaction to the murder of her firstborn — she was never once "in the moment", never portrayed a real emotion, but a very presentational 'aping' of real emotion which did not serve Tamora well. One never felt sympathy for her for a moment, since she seemed a cold and calculating bitch from the start. It was a performance that left the audience cold. Douglas Hodge as Titus was an actor of strength, quirkiness, and rawness, as well as many surprises — very interesting to watch. And please forgive me for saying this, he was good, but he wasn't brilliant in the way Mark Rylance would have been in the same role.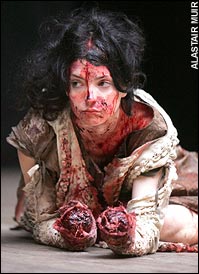 Laura Rees was superb as Lavinia and so real in her emotions that the gruesome events in the play were magnified twentyfold —she was petite and fragilely beautiful, so you can only imagine when they bring her in, broken and mutilated, covered head to toe in blood — gory. Shaun Parkes as Aaron gives a solid, muscular, dangerous performance as Aaron, until his final scene when the director (Lucy Bailey) clearly did not understand that her Aaron needed levels, needed motivation, needed better understanding of himself, or did not know how to get her otherwise excellent actor there. The supporting cast were good, but not great, solid, but not electric in any way — a big change from the Globe of yesteryear when supporting actors could also have played kings.
Music and dance were unimpressive during the show, and the usual final jig was replaced by a peasant roundel running around the audience, grabbing audience members in the chain at will. Wan, wan, wan.
For the tourists there, the majority seemed exhilarated by what they had seen. One
philistine critic
has gone so far as to say it is the best Shakespeare he has seen these past ten years at the Globe.... Ummm, yeah. NO.
The sad truth is that now the quality of the Globe is no different, no better from the present days of RSC. That to me is heartbreaking. Used to be, you wanted good Shakespeare, you'd go to good ol' RSC — you wanted brilliant, earth-shattering Shakespeare, you went to the Globe.
Without the artistic direction and flawless standards of Mark Rylance at the helm, the quality of actor (save Patrick Moy and Laura Rees), the quality of direction, the costumes, the music, the
experience
has brought the Globe down to the middling mortal mire.
Divine Mark Rylance absent from every aspect of the Globe is the greatest loss that the world of Shakespeare has felt in my lifetime.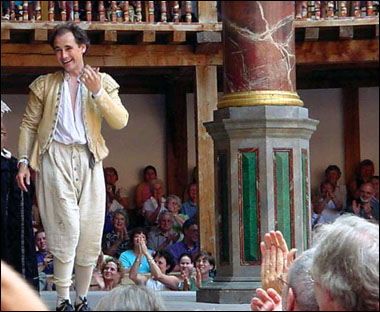 Tags:
Mark Rylance
|
Shakespeare
|
The Globe
|
Theatre
|
Travel
|
London
Labels: Mark Rylance, Shakespeare, Theatre, Theatre Reviews, Travel