TGIF - Thank God It's Firefly Day 5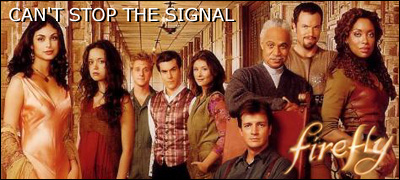 I may be in England but, a Browncoat to the core, my Firefly DVDs came with — shoulda seen the mystified looks of the French at the café in Montpellier airport when, during the long wait for the flight, yours truly was enjoying the "Jaynestown" episode. I need to state that "Out of Gas" is actually my fave episode and "Jaynestown" comes in at a close second.
Here are the shiny things for this TGIF:
Serenity Now/Equality Now
- Can't Stop the Serenity
Serenity
movie screenings to support Joss Whedon's favorite charity,
Equality Now
, happening June 22-24 in 44 locations worldwide. Even if you've never seen the movie or show, if it is showing somewhere near you, go see it. Me, I'm going to the midnight show in King of Prussia, PA on June 23, 2006. They can't stop the signal!
Done the Impossible
- The Fans' Tale of Firefly and Serenity.
After a long wait, the production team is getting ready to ship the DVD before July 20. Pre-orders are being accepted now. Watch the two shiny trailers on the site!
Firefly Bloopers
- via YouTube.
This is that video the cast put together, which is on the Firefly Series DVD Boxset.
Best Jayne Moments
- via YouTube.
I've noticed my own self appreciating Jayne and Adam Baldwin best in a series full of favorite chars. Shiny!
River Misunderstood
- via YouTube.
River clips set to Matchbox 20's "Unwell" - superb video.
Adam Baldwin singing "Hero of Canton"
- via YouTube.
Did I mention, I love Adam Baldwin — rocking actor!
Well, that's it from this side of the pond. More next week.
Keep on flyin'
~A
Tags:
Firefly
|
Serenity
|
Movies