Things that Please: Sei Shōnagon
Sei Shōnagon was a lady of the court in Imperial Japan, born around 966 AD. She was a poet and writer, who kept a "
Pillow Book
" in which she wrote her thoughts and entries detailing court life. Some of the entries were lists of things on a given subject, such as "
Hateful Things
", some reflections on behavior, such as on "
A Good Lover
."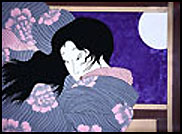 In honor of Sei Shōnagon, my list of the day:

Things that Please

The cries of baby birds from one's tree. "Food, food!"

Rose bushes in one's garden, a feast of lush colors, crowned by one with flowers the size of latte cups, light yellow, blushing pink at the trembling edges.

One's sleepy dog, her ballerina feet twitching in a dream of chasing bunnies.

Neat piles of crisp laundry, smelling faintly of jasmine.

Steam curling from the morning's first cup of tea.

Poetry written with a purple pen.

A friend calling at an indecent hour just to say 'hi.'

Turquoise flip-flops with green frogs on them — summer feet.

Making travel plans to destinations too expensive to bear, but promising oneself "some day."

The neighbor's backyard lights turning on to reveal the silhoutte of a wild fox.

Writing one's 'pillow-blog*' even when one's hand is cramping from the revenge of the carpal tunnel.

The thought of wonderful people stumbling in to read what one has scribbled.

<3 A
* I ardently wish I had coined this one, but
Philobiblon
got there first :)

Peter Greenaway made a strange and wonderful movie as an homage to Sei Shōnagon — incredibly lovely cinematic treats in this one. And, Ewan McGregor in all his glory is nothing to scoff at....
The Pillowbook
(1996).
Tags:
Books