Mischievous Muse in Europe

Wheeeeeeeeeeee! Apologies for the squeeing, but yes, it is true. I am going! Flying to Barcelona tomorrow night, then driving to Montpellier in the south of France for a few days, then flying to London for another few, back on Sunday 18th.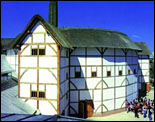 Can anyone say wine? cheese? Shakespeare? Definitely going to see both
Titus Andronicus
and
Coriolanus
at the
Globe
, although it will be a bittersweet experience
sans
my Divine Mark Rylance — also hoping to catch
Hayfever
with Dame Judi Dench, and perchance Derek Jacobi in
A Voyage Round my Father.
SQUEEEEEEEEEEEEEEEEEEEEEEEEEEEE!
Called my friend Nader, who's a friend from the RADA days, and will get together with him and his g/f as well. Must stop, dying from the happies! Wheeeeeeee!
<3 A
Tags:
Mark Rylance
|
Shakespeare
|
The Globe
|
Theatre
|
Travel
Labels: Travel