Insomniac Surfs the Blogosphere
Blogger is finally back up after a full day's worth of "technical difficulties" — secretly, I'm convinced it was my excessive blogging and blogsurfing activity which did it, but shhh! don't tell Blogger.
So in my sweep through the many sites on which I regularly lurk, I found many things strange and marvelous, but this one takes the cake: on "
Such Shakespeare Stuff
," Duane has a YouTube clip of, wait for it....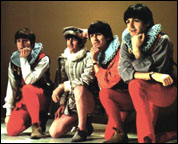 *Drumroll*
The Beatles doing 'Pyramus and Thisbe' from Midsummer Night's Dream.
The most hilarious Shakespeare
moment I've seen in YEARS.
On
Geoffrey Chaucer Hath a Blog
, GC decided he'd "wolde teste out sum newe materiale" which he thinks "has legges":
THE MOOST
THRILLINGE ROMAUNCE OF THE CIPHRE OF LEONARDO
I was
howling
, I tell ya! I also like Chaucer's blog t-shirts... I'm adding the "Ich am a gentil harlot and a kynde" on my 'I want'-list, te-hee!

On
About Texts
, there is a
retrospective on Calvin and Hobbes
which makes for a nice read — so miss seeing the strip in the paper. &nbspBut, of course I own all the books, sooo.
More later. Might try that sleeping thing. I hear it's good for you.
Tags:
Shakespeare
|
Books
Labels: Books, Shakespeare