Reminiscences of Rome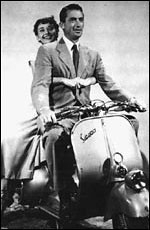 Ahh, Rome, the eternal city. Always evokes a myriad of pictures in my head, from Audrey Hepburn and Gregory Peck on a scooter, to Julius Caesar entering in triumph, to the belated Pope blessing folks on the steps of St Peter's, to the corny-but-delightful 50's movie "Three Coins in the Fountain", to the wonderful "Gladiator" of late fame.
I've been really fortunate in my life. I got to spend my last semester of college studying in Rome. As y'all know, my degree was in English Lit, but this final semester my curriculum was comprised of 3 Art History classes, daily "Italian 101" classes, and one "Film & Literature" class.
I had never studied a word of Italian before going, except for some tourist Italian tapes I had bought for survival, and an Italian dictionary, which by the end of the semester looked like someone had lovingly chewed on it. Our Italian teacher was wonderful in that she not only went by the book and really gave us an intense class (we basically did two semesters' worth of Italian in one semester), but she also would help us in the questions that would crop up in our day-to-day life in Rome. For example, I needed to find out how to ask for an ash-tray in a restaurant, "Posso avere un portacenere", etc. etc. Because, as anyone visiting Rome will soon find out, few people actually do or are willing to, speak English. This is not due to a lack of desire or dislike for Americans — in fact, of all the European nations, I'd say the Italians love us best, and everyone has a relative or knows someone who has moved to the U.S. it seems. So knowing how to get understood in even broken Italian is imperative. And people are really nice and appreciative of anyone who tries at least to speak the native tongue.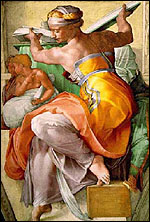 I had never had a single art history class either, and realized to my chagrin during this semester, my
last
, that I would have loved to have minored in it. My love of those classes was due in great part to our fabulous professor, Dr. James Callaghan. Erudite, enthusiastic, and infinitely knowledgeable, Professor Callaghan would give us lectures and take us on field trips to see the actual works of art in their respective museums, churches, and palazzos in Rome, Florence, Venice, and Sienna. I loved him, loved his classes, and lost my soul to the works of art, and to Italy. Prof. Callaghan is currently the head of Study Abroad Programs at Philadelphia University, and I just
know
he is still passing on that love of art to his lucky students.
So, this all being said, I'm going to continue my little 'traveller's guide to Italy' (see
Post 1
and
Post 2
on Florence) with a section on Rome and the Vatican. I could do several postings on the subject, but I'm going to stick to the essentials what to not miss, if you only have a few days instead of the
years
Rome warrants :) See
next post
.
~A