Roman Holiday - Guide to the Essentials, Part 1
Before I start, the most important thing I can tell you about Rome is that pickpockets are everywhere. Place nothing in your back pockets or your backpack that you'd hate to lose (I suggest leaving your passports and plane tickets in a safe at your hotel) and be alert at all times, especially in crowds (including churches and museums) and the subway. Watch out for groups or individual children. Child pickpockets are plentiful here. If children crowd around you, you must coldly and cruelly shoo them away and yell "Via!" (i.e., "Go away!"). Sounds foreign to us in the States, but pickpocketry is a real, thriving business in Rome.

Rome is so full of history, art, and places to visit, that a quick guide is an endeavor doomed from the start. However, if one only has a few days, here are what I consider the essentials:
Day 1.
Start at the
Piazza di Spagna
, and take in the
Spanish Steps
.
The subway station is conveniently there, as is the AMEX office, and one of the many McDonald's restaurants. Before I piss anyone off, let me explain myself: Rome is a hard place for a tourist to find bathrooms, and McDonald's' bathrooms are free, and usually up to snuff cleanliness-wise.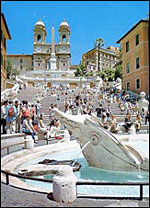 Walk up the steps to the church of Trinità dei Monti for a quick peek inside, and admire the view from the top of the steps. Romantic, isn't it? (pun not intended).
The Spanish Steps
are bordered on either side by Babington's Tea Rooms, which serves delectable tea and scones in the English style (damned expensive, but yum) and the Keats-Shelley House, where Keats died in 1821. It is now a museum for the English Romantic poets (ugh!).
Drinking from the boat-shaped fountain in front of the Spanish Steps is supposed to bring good luck, but I don't recommend it. I did that, and suffered from "Mussolini's Revenge" my first week in Rome... 'nuff said.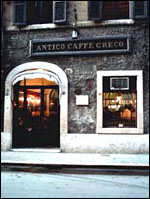 Take Via Condotti, where you find another nice place to have tea or coffee:
Antico Caffé Greco
, Rome's oldest coffee house, which was frequented by Keats, Goethe, Liszt, Byron, and other famous people when in Rome ($$$$). I believe the store that sells cigars and a b'zillion different decks of cards and tarot cards is also on this street, can't remember.
Anyway, take Via Condotti all the way until you hit Via del Corso. "The Corso" as it is affectionately known, is
the
shopping street, with clothing, shoe, tourist, and jewelry stores. Make a left, that is, head south until you hit Via d. Muratte and make a left onto that to the Fontana di Trevi.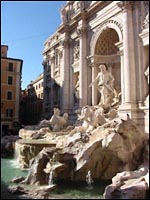 It is imperative that you toss at least one coin with your right hand over your right shoulder (your back to the fountain) into the
Fontana di Trevi
. One so you can return to Rome someday, two for love, third for marriage. The tourists around here are obnoxious, and the restaurants are sub-par and expensive, so don't eat around here. A good thing to know, if you are ever in Rome on a Sunday (when everything everywhere is closed), the stores around Trevi are open so you are not left supply-less.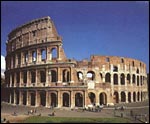 Return to the Corso and because you will be doing an
insane
amount of walking during your stay in Rome, I highly recommend taking a taxi to the Colosseum. Trust me, it's worth it. Take in the
Colosseum
and try getting pictures of it inside and out, although that is a near-impossibility, because the place is HUGE. Outside, admire the Arch of Constantine, and head up the slope to the Roman Forum, and enter through the Arch of Titus. The
Roman Forum
is amazing, naturally. If you visit only one place as you are passing through, it ought to be the House of the Vestal Virgins.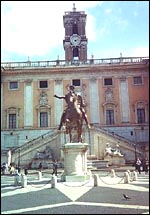 Once through, head up the hill to the
Piazza del Campidoglio
on the Capitoline Hill. Here, you will see the equestrian statue of Marcus Aurelius (by Michelangelo) and the
Capitoline Museums
on your left and right, and the Palazzo Senatorio. Feel free to visit the museums, but in the interest of time, I'd say save these for your next visit to Rome. Note on the left side of the Palazzo Senatorio the statue of Romulus and Remus suckling on the wolf.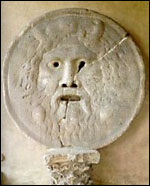 From here, you could go down the steps to the Via d. Teatro di Marcello, and head left and downhill all the way down to Church of St. Mary in Cosmedin, which will be on your left as you reach
Piazza Bocca della Verità
, and here of course is the famed "Mouth of Truth" — if you are brave, stick your hand in and see what happens. I was totally freaked out, but happy to say, still have my digits intact.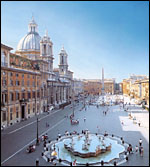 Best thing to do after this church, is to again grab a taxi, and ask the driver to take you to
Piazza Navona
. Piazza Navona is the location of an ancient stadium for sports and theatrical performances — it was even flooded for a performance including staged sea battles in the Renaissance. Bordered on all sides by palazzos which housed popes, cardinals, and princes the piazza has three gorgeous fountains by Bernini, the most impressive of which is the central one, Fontana dei Fiumi, or the 'fountain of rivers' with statues of the Nile, the Plate, the Ganges, and the Danube personified. After dinner, come back here for a night time photo — amazing. Your choices for dinner are any of the cute outdoor restaurants around the piazza, which serve touristy fare, but are worth it for the atmosphere and view.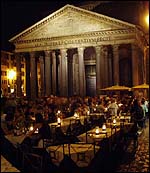 If you're not exhausted out of your wits yet (!) you may want to walk from the Piazza Navona to the
Pantheon
and admire its rotunda. Once you exit the Pantheon, you can get awesome photos of the fountain in front at night. You're also facing another McDonalds right there, if you need to use the facilities. Go up the street on the right side of McD's and in two blocks there is a delicious gelato place.
Now I'd say definitely call it a night, because unless you get up the crack of dawn to go to the Vatican, you will have to experience the Sistine Chapel with 5,000 tourists packed in like sardines, but if you get there early early early, you might be one of twenty people in a quiet and holy-seeming chapel, and you can actually enjoy the Sistine Chapel, instead of wanting to massacre obnoxious, loud, jostling tourists.
More on that in
Rome Post 2
.
~A
Labels: Rome