Happy Odin's Day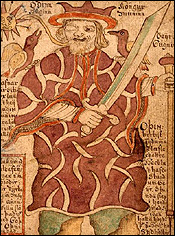 Our English word for Wednesday comes from the Anglo-Saxon "Wodensdaeg", Woden's day, that being the Anglo-Saxon name for the Norse god Odin.
Odin is the All-Father in the Norse pantheon, "one god to rule them all" so to speak, or in more familiar terms, the Nordic equivalent to Zeus or Jupiter. He was the one-eyed god of the sky and the god of wisdom, poetry and war.
For more on Odin (some wisdom for the day of the god of wisdom) see
this Wikipedia article
.
If you're wondering why I'm on this Norse mythology kick today, it's because of Neil Gaiman's "
American Gods
" which I recently finished, and which has stayed with me. In
an earlier entry
I cited it as one contender for the title "The Great American Novel" — worth a read, folks.
For some reason, while we're inundated with Greek and Roman mythology in school in Finland, we're taught next to nothing about the mythology of our Scandinavian neighbors — granted, we were never Norse, but wouldn't it be good to know our closest neighbors' ancient sacred texts? So, I'm trying to educate myself on the basics. If anyone has a good book suggestion on the subject of Norse Mythology, lemme know please. Thanks :)
Going to make din-din and play FFXI.
BTYL (Blog to you later, tee hee!)
~A
[Image credit: From the 18th century Icelandic manuscript SÁM 66 in the care of the Árni Magnússon Institute in Iceland. Courtesy of Wikipedia.]