News on Mark Rylance and Shakespeare's Globe
The Divine Mark Rylance won at the
BAFTA
s (British Academy of Film and Television Arts) on May 7th for his role in Channel4's "The Government Inspector" the equivalent of a British Emmy Award. Congratulations to Mark!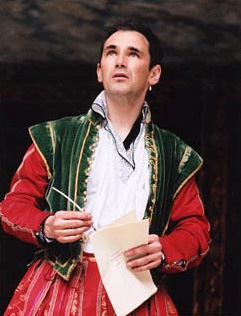 JustJosh on his blog reviews the
Globe's production of Coriolanus
, and it seems perhaps Shakespeare's Globe is not dead
sans
Rylance after all. I'm planning a pilgrimage this summer, so you'll get my two cents on it later.
On
the Globe
's rivalry with the
RSC
, the
Evening Standard has an article
which to my eyes seems very RSC-friendly. Whereas everything I've ever seen at the RSC pales in comparison to any given 5 minutes at the Globe.
I must admit, I am dying to see Patrick Stewart as Antony in
Antony and Cleopatra
and as Prospero in
The Tempest
, as well as Sir Ian McKellen as
King Lear
. Must make plans. And wait till you hear this, Madeline: they are doing "
Merry Wives the Musical
" with Dame Judi Dench as Mistress Quickly! We have saying in Finland, "Live long enough, you'll see it all." (Oppia ikä kaiken)
For more, see
previous post on Mark Rylance, the Globe and RSC
.
Tags:
Mark Rylance
|
Shakespeare
|
The Globe
|
RSC
|
Theatre
Labels: Mark Rylance, Shakespeare, Theatre